Georgian Cottage kitchen installation part 3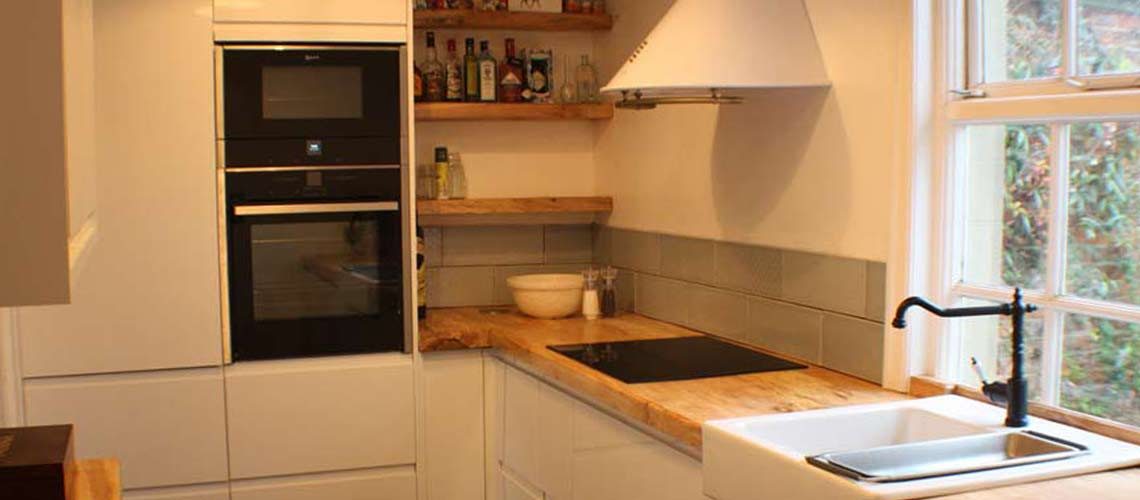 by Andy C Watson
We have finished the kitchen at last. It's been a long journey, with many bespoke elements slowing down progress. From a complete teardown, we went beyond an empty shell to re-plaster and rewire. We connected to a new mains water supply, which runs behind a stud wall in the kitchen, to cause as little distress as possible to the fabric of the building. It's been an upheaval.
Cabinets, appliances, rough-sawn timber, plasterboard, tiles and all the associated power tools have been cluttering up most of the ground floor of our house for the last few months. It's been more disruptive than reconfiguring the bathroom, and that job involved merging three separate rooms into one.
I planned to do much of the work myself, as we had a very precise vision of what we wanted, bringing in professional craftspeople to help when needed. As mentioned in a previous article, we decided that trying to emulate an old-style country kitchen just wasn't the right way to go.
We went for gloss surfaces, sleek lines, modern integrated appliances and concealed cupboard handles, a style sympathetic to the Georgian aesthetic of the building. However, we wanted to avoid the trap of having a kitchen that looks too clinical or manufactured, so I sourced rough-hewn timber to make the worktops and we employed a range of bespoke techniques to provide touches of character throughout.
Some of these touches included making all the cupboards from drawer fronts, to achieve a consistent sweeping look across the entire span of the units, and sourcing an unusual extraction hood and character tiles, which combine the clean, modern look with a traditional feel.
For the worktops, I was lucky enough to source some spalted English holly planks from a contact near Ripon, less than an hour's drive away.
It was a challenging job to craft these slabs into the three worktops that I needed, so I called on the help of Neil Savage of N.S. Joinery & Construction to lead the way with the cutting, shaping and jointing.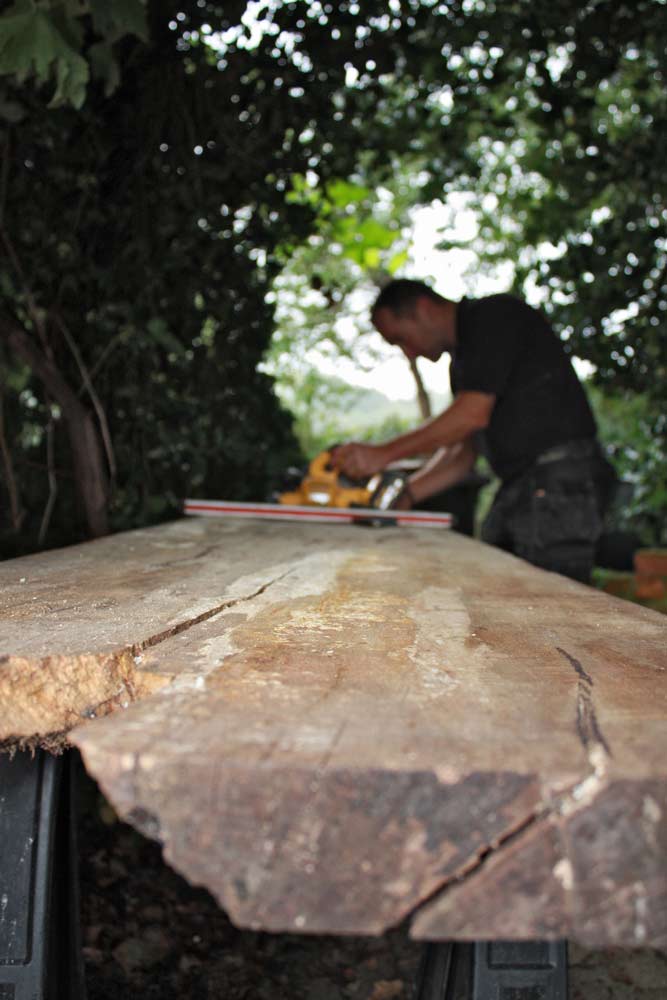 After a full 12-hour day, the worktops were beginning to look a lot less like trees and we'd also fashioned an upstand for behind the sink. With the basic shapes of the worktops completed, I was able to sand down the tops, round off the edges and rout some detailing into them. I didn't want to spoil the look of the tiles by installing plug sockets on the walls, so I housed retractable units in the worktop.
I decided not to oil the worktops. I don't like the idea of having to re-oil every six months or so, and it only takes a few spills of water to get under the oil for marks to begin to appear. Instead, I used Rustins Plastic Coating, which is a two-part clear melamine coating that's heat, impact and solvent resistant, drying to a high gloss finish.
I previously used it on the bathroom worktop. Three years later and it's still looking like new.
One problem we had was hiding the electricity meters and cabling, which are on full display. Building a box to house it all would have looked out of place, so I built a set of shelves using the same wood as the worktops and made a set of fake books to hide everything.
It's great to have a fully operational kitchen at last. The travel hob and endless microwave dinners are now just a distant memory. With the kitchen complete, we'll be moving on to renovating the living room next. Although before that happens, we'll be focusing on some of the fun jobs, as well as just enjoying living in our Georgian cottage.